Updated: 2019/01/03
RiM* is now Blackberry*, Kentucky Fried Chicken* became KFC*, and the search engine BackRub* changed its name to Google* years ago. But why do companies actually take the trouble to change their carefully constructed name in the first place?
Why companies and brands change their names ...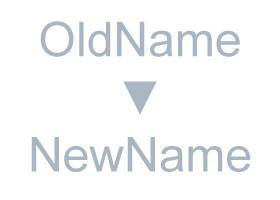 There may be many reasons for the change of a company name. Often it's more than a single reason, but rather a combination of circumstances that makes a name change necessary.
When considering changing a company name, we need to answer the question: In terms of the potential benefits, is the name change going to be cost-effective? The fact that a CEO doesn't like the name anymore, or it sounds a bit old-fashioned, may not be sufficient reason for a major modification of the name.
A name change involves high administrative and communicative expenditure, which require more than a simple change of business address and letterhead. The to-do list includes, for example:
Notifying the relevant authorities and departments of the name change
Updating all marketing materials, websites, social media profiles, etc.
Announcement of the new name, with reasons, to employees, customers and business partners
Application for trademark protection for the new name (if necessary)
Other
It is clear that a name change is a complex issue and should therefore only be conducted if there is sufficient justification. What might the reasons be? Let's take a look at them...
Administrative reasons for business name change
Merger


One of the most common reasons for a business name change is the merger of two companies. Also, when two formerly separate divisions of one company are merged, a new, more compact name is often necessary.
In this case, it may make sense to keep parts of the old name. The "parent names" can be merged into a new name, or an acronym (abbreviation) can be formed from the original names. The Name Factory offers some useful name generators for these cases.
No naming rights
It is common for unprofitable divisions of companies to be sold. However, the naming rights are not always sold as well. When this is the case, the division's products will need to be sold under a different name in the future.
It is often useful to create a transition phase in which both names are used simultaneously. During this time, the name change can be communicated to consumers. This was the case for the German dishwasher tablet Finish* (formerly Calgonit*).
Trademark problems
If a company uses a name for which it has no rights, the actual owners of the name may eventually issue a notification letter. The violation of trademark rights is usually unintentional. Most often, companies are not aware that their name, or a similar name, is already trademark-protected by a third party.
If a notification letter is received, the most frequent result is a forced change of name. When looking for a replacement name, make sure not to make the same mistake twice: check your ideas first through your own research (using e.g. Domain Check or Trademark Check), and make sure to get a specialist lawyer to confirm your name and even file a trademark application.
Marketing reasons for business name changes
International standardization


Many products are marketed under different brand names in different parts of the world. However, in the era of the internet and social media, inconsistent product monikers make it difficult to communicate. It would be difficult to find a name for Facebook or Twitter, and their entire marketing would require a huge effort in redesigning elements like logos and packaging, etc.
Therefore, while structures are being unified, brand names are sometimes altered in countries where they carry different names. Usually, the most established name is chosen, which is often the original name of the brand.
Product better known than the company
Sometimes a product is so successful that it is much better known than its manufacturer or the company that stands behind it. In certain situations, consumers don't know the company name, whereas everyone has heard of the product.
In this case, it is worthwhile thinking about a name change for the company. By renaming it after the product, the strong brand radiates back to the entire company. This happened for example with RIM* (Research in Motion) who changed their name to BlackBerry* in 2013.
Changed target audience


If the target audience of a company changes, it may be appropriate to include a name change in this restructuring process. The change of target group may occur either through natural causes or through a shift in the company's focus that has been planned.
However, as a name change is a complex issue, it may interfere with a strong brand, or even destroy it. Adaptation of the target group is therefore often better done by changing the claim instead.
The Jägermeister brand shows that even products with old-fashioned names can be accepted by target audiences under 30 through a marketing makeover. Therefore, it is not always necessary to introduce a completely new name.
Changed core products
The world is changing, the market is changing, and businesses also need to change to keep pace. In technological areas, it is therefore sometimes necessary to reflect changes in the product portfolio in the company name. This is especially the case with names that denote technical components or trends.
Floppy disks, CDs and DVDs are yesterday's news. You wouldn't want to carry forward these relics from the past in your name! If renaming the company is necessary, be careful not to make the same mistake again. A business called Rent-a-DVD should not be renamed Rent-a-BluRay. Get a more general term like Stories-on-Demand.
Needing a name change - what to do next?
Of course, there will also more mundane reasons for a name change, especially in owner-managed businesses: It may be that you simply don't like the name and therefore want to change it.
This is often the case when the initial search for a business name wasn't taken seriously enough and its importance underestimated. Not to worry, changing to a new name is tedious but it's manageable!
Changing product or company names with NameRobot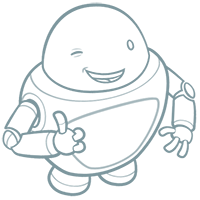 It is very important for existing businesses and brands to have a smooth renaming process. Therefore, we recommend using professional tools for developing a new product or company name.
It is easy to use NameRobot's name generators from the Name Factory: the Fantasizer gives you unique, modern fantasy names and the Supplementer combines your keywords with great sounding suffixes to create new names. If you want to keep old name components, Acronyms or Merger are your tools of choice. You should choose this approach if you anticipate that loyal customers or employees might react with skepticism to your name change.
We wish all name-changers success on the path forward and sincerely hope that it won't be long before you find your new name!
* Names mentioned in this article names are for exemplary purposes only and are not associated with NameRobot.