Check the availability of your brand name for free
Do you want to know if the name for your business, blog, or website is already protected as a trademark? That's smart because before using a name for commercial purposes, it's important to determine if it's possible. With trademarkly.io, you now have the perfect tool at your fingertips! Our free tool allows you to check the availability of trademarks. Whether you're a founder, startup, or marketing expert, trademarkly.io enables you to verify if your desired brand name is unique and not yet protected.
Our tool searches through the databases of the European Union (EU) for Union trademarks, the German Patent and Trademark Office (DPMA) for German trademarks, and the United States Patent and Trademark Office (USPTO) for US trademarks to provide you with comprehensive information. You will not only receive the status of each found trademark but also access detailed information about the results.
Using trademarkly.io is easy: simply type the name you want to check into the tool. Within seconds, you will receive the results. And the best part? It's completely free! You can use trademarkly for free, without registration, and start your trademark check immediately.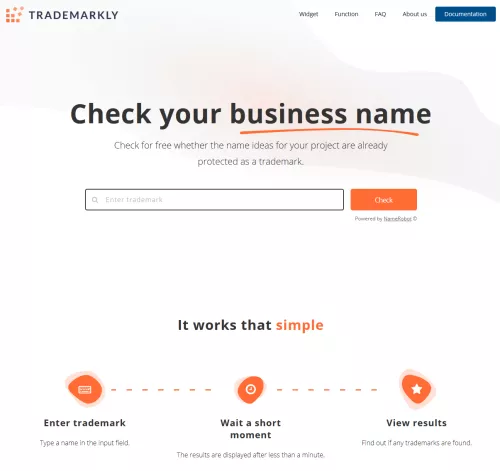 trademarkly.io: Quickly check out a few name ideas
Get trademarkly on your website
Offer your visitors a trademark check on your website with the trademarkly.io widget!
Are you a website, blog, or online magazine owner looking to provide the convenience of a trademark check to your visitors? We have the solution for you! With the trademarkly widget, you can easily integrate the trademark search tool into your own website.
Our widget offers the same powerful features as the tool on our website. Your visitors can check trademarks for free and receive instant results. Whether your site focuses on founders, startups, branding and marketing, domains, or trademark law, the trademarkly.io widget is a valuable addition.
Integration is incredibly simple. Just copy the provided code and insert it into the HTML code of your website. The widget will seamlessly integrate, providing your visitors with added value.
Interested?
The use of trademarkly.io is flexible: you can either use the tool for free, or choose our ad-free premium option. The exact packages and prices will be announced soon. If you're interested, simply send us a short message via the contact form, and we will provide you with all the information you need.
But that's not all! To celebrate the launch of trademarkly.io, we are offering exclusive special conditions. During the first three months after the release of this news, you can take advantage of these special offers. So don't wait any longer, be quick to integrate the trademark check into your website or blog!
Get trademarkly.io today and offer your users a convenient trademark check that assists them in selecting the name for their business.