You know it all too well. While brainstorming, ideas come quickly. You literally spit them out one after another. But the time comes when you have to check your many ideas to see if they are appropriate for everday use. Creative ideas are often too extravagant, impractical, or you often end up being the only one who understands the joke behind it. The process of finding a name for a business is sometimes quite similar. The same general principle applies: Comprehensible names increase the value of brand recognition and ensure the long-term success of a business.

A name that speaks for itself

What distinguishes a comprehensible company name? A very long name that can hardly be pronounced and is virtually a tongue twister is anything but comprehensible. However, a catchy name that isn't too long or too short and is easy to remember is an intuitive company name. A company name has to be simple, but at the same it has to set a company apart from its competitors. Otherwise it's difficult to tell if these businesses all belong together or if they are different providers. This gives customers the impression that the choice between them is arbitrary and that they are interchangeable.

Simple lettering or a simple logo also contributes to a comprehensible company name. The lettering or logo should be distinct and easily noticeable. Ideally the name should also be spelled the way it's pronounced. Many customers also have a clear sense of when a company name, along with having a nice sound, also delivers substance and a message at the same time. With a comprehensible name a business increases its value of brand recognition, and by doing so, builds a relationship with the customer. Customers more easily remember a company name if it's simple and comprehensible. A name that's considered unique clearly distinguishes a business from its competitors. This advantage increases overall competitiveness and contributes to the long-term success of a business.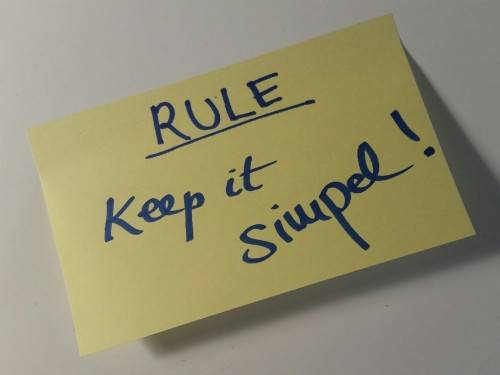 Tips for checking comprehensibility

How do you find out if your chosen name makes as good an impression on customers as it does on you? To start, it makes sense to say the name out loud to yourself and to ask yourself how it sounds. Is it easy to pronounce or a tongue twister? How would a Frenchman or an Englishman pronounce the name? You should especially bear this step in mind right at the beginning if you plan to make your business active on the international market at some point. Next, you can consult with colleagues or friends and ask them what they think of the name. It's also useful to test the name over the phone. This is how you can find out how your new company name comes across over the phone: Ask the person on the other end of the line multiple times how the name is pronounced or ask them if they understand it right the first time they hear it. This test gives a first clue as to whether or not your new company name is showing weakness, and whether or not you should go back to the drawingboard and rethink it again. It can also be helpful to do a survey, ideally with strangers. This helps you find out which associations are called to their minds the first time they hear the name. If the name sounds nice but brings to mind negative associations, you should take a step back in the naming process. In case you actually plan to take your offer international, it's advisable to research the meaning of your company name in the contexts of other cultures. Intercultural mistakes can easily be avoided.
In your opinion, how important is it that a company name is comprehensible? What is more important for a name - comprehensibility or creativity?