Update: 2020/02/13
A brand is nothing without its name. This is because clients and business partners connect a comprehensive concept of values ​​and ideas with a name that can often not fully be rendered into words. The name is the heart of a brand in compressed form.
Agency Names are Brands
Of course, branding is also a hot topic for advertising agencies. As a service provider in the creative field, they need to distinguish themselves from competitors, build trust and constantly represent their clients in an ever-changing market. This is why being properly branded is important for agencies as well. The brand name must be carefully chosen.
When analyzing agency names, one recognizes two fundamentally different approaches to naming. Traditionally, advertising agencies are named after their founders. But a growing number of agencies choose an original invented name that scores on a more emotional level.
Founder Names as Agency Names
Ogilvy & Mather, Jung von Matt, Saatchi & Saatchi - all of these are illustrious names from the advertising industry. Having the name of the founder's name in the agency's logo is the standard for this branch of trade. This type of name comes with the following advantages and disadvantages:
Pros: Founder's Name as the Agency Name
Low initial need for investment into brand building
Evidence of personal support by the founder himself
Name is unique and distinctive
Founder's high level of expertise radiates onto the entire agency team
Cons: Founder's Name as the Agency Name
Customers expect personalized support from the founder
New partners will want to be represented in the agency name
Change of generation/management or an agency sale can cause problems
If the founder(s) are not very well known, the name misses its effect
Examples of Known Agencies with Founder Names
Catchy names:
Saatchi & Saatchi
Ogilvy & Mather
The Martin Agency
Wunderman Thompson
Complicated names:
Kempertrautmann
Forsman & Bodenfors
Grimm Gallun Holtappel
Lukas Lindemann Rosinski
VMLY&R (what?)
The Alternative: Invented Names
The more daring agencies may invent their own name instead of using the traditional founder's name method. The advantage of this is having freedom of choice without restrictions in creativity. Successful agencies such as ustwo or Anomaly work very well with this method. Admittedly though, you have to invest more time and effort into building in a clear profile with such a name, but in the long run, it will pay off.
Categories for Imaginative Agency Names
Alphanumeric names (e.g. 4Creative, 99designs, Droga5)
Inanimate objects (e.g. Vinyl Factory, Engine, Salted Stone)
Living organisms (e.g. Mother, Krow)
Physical or metapyhsics attributes (e.g. Atomic, Audacity)
Abstract concepts (e.g. Karmarama, Now, Thjnk)
Places ( e.g. Homeland, Albion)
Of course, these categories can also be fused (e.g., the sub categories Names with Cities and Relationships: Brooklyn Brothers or Motherlondon).
Rob & Joe have put together a taxonomy of advertising agency names where naming the business after the founders is only one of seven ways of naming an agency.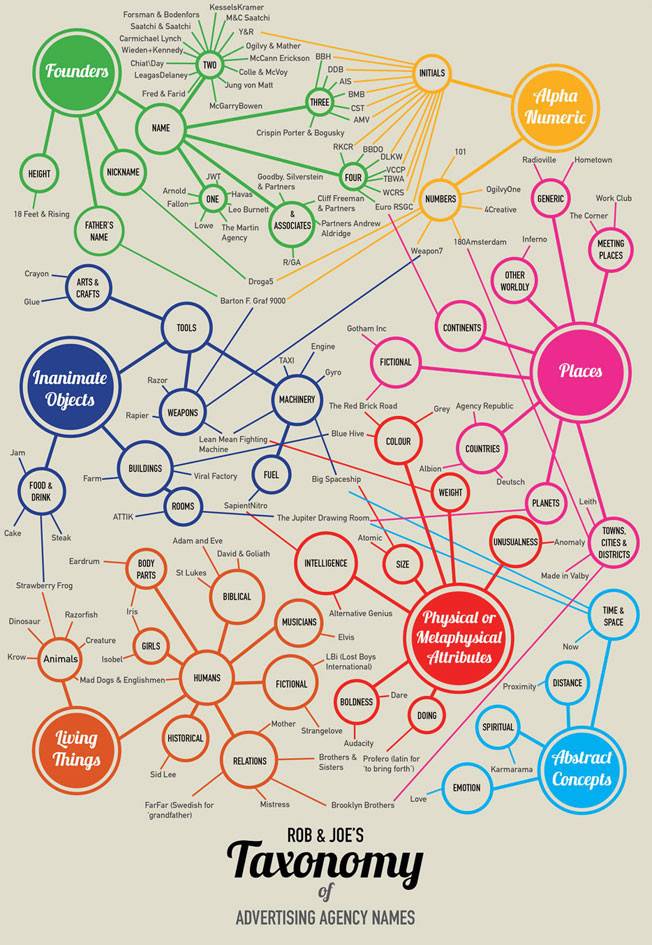 By the way, descriptive (and boring) names like "Serviceplan" or "Advertising Team" are extremely rare in advertising agencies. No wonder, this kind of business name is just not original enough for most agency founders.
For prospective advertisers, we recommend our proper name tool, which allows you to combine different words with your own name. And of course our brainstorming tool to come up with new as well as unexpected ideas. Enjoy your naming journey!
Since not all advertising agencies are also specialists in brand naming, a visit to the online naming agency FlyingNames is also worthwhile. Have fun searching for names and building brands!
Found any other agency names? Then feel free to add them to the comments below :-)