NameRobot is primarily about the creation of names. But finding a name is not enough on its own. As an entrepreneur, you have to think further: you'll want to establish a solid brand name, and often you'll want to protect it as a trademark. On our website, we've compiled a wealth of information about brand names and trademarks. Here's an overview of our articles on brand names.
What should I know about brands?


Brands are an integral part of our everyday lifvs. As both consumers and entrepreneurs: we trust in strong brands. Brands facilitate orientation in the market and provide security in a consumerist world. In our article on the phenomenon of brands, we give an overview of the most important facts about their names. We consider questions such as:

What is a brand or trademark?
What types of trademarks are there?
What is a good brand name?
How do I protect a brand name?
What makes a successful brand?
Our brand name generators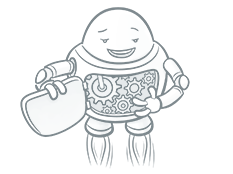 You know that you need to develop a brand name - but you may have no idea how this is done. With our brand name generators, which by naming experts, this task is no problem at all. In our article on brand name generators, we consider topics such as:
Criteria for good brand names
Brand name generators for brainstorming and name development
Tools for testing names
More tips for brand development
Trademark law FAQ


In our FAQs on trademark law, we've compiled the most frequently asked questions about naming companies, products and projects. Here we answer questions such as:
What are word marks and combined marks?
What are EU and IR trademarks?
Where and how can I carry out a trademark search?
Can you protect any name as a trademark?
When are trademarks in danger of being confused?
Are domains also trademark protected?
What do trademark symbols like ®, ™ and © mean?
What are the steps involved in registering a trademark?
How do I register a trademark?
In order to secure a brand as a trademark, we recommend making use of a trademark registration service like www.attorney-patent.de, our partner for trademark protection.
We hope you are successful in developing your brand name with NameRobot!