Wifi Name Puns
Top class for wifi names are puns which include the terms LAN or wifi.
LAN

Puny wifi names with "LAN" include:
The LAN before time
The Promised LAN
LAN of Milk and Honey
wutangLAN
Wifi
Puny wifi names with "wifi" include:
Pretty Fly for a wifi
WIFIght the inevitable?
Funny Wifi Names
There are lots of wifi names out there which are just plain funny.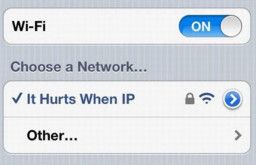 Messages
People use their wifis to send messages out to everyone out there. Especially useful if you live in a central area!
Bring Beer and Women to 40.2
Clean the fucking dishes, John!
ItHurtsWhenIP
Wifi conversations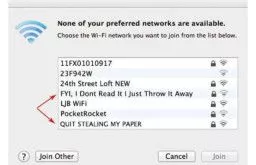 Neighbors often don't get along very well. Some people extend their quarrels to their lans and communicate passively via their wifi names.
Quit stealing my paper --> FYI, I don't read it, I just throw it away
WeCanHearYouHavingSex --> SorryAboutAllTheLoudSex
Wifi characterizations
Some wifi names try to characterize the wifi, whether it anthropomorphizes the wifi or simply describes its "qualities"...
Help I'm trapped in a router
Slow and shitty
Loading...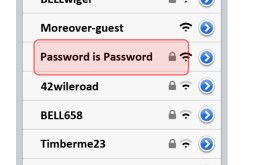 Password
It's a trap! When people seemingly give away their password in the wifi name, they most likely just want to troll you.
IfYouGuessMyPasswordIHaveToRenameMyDog
thepasswordisbacon.
Password is Password
Relatives and Neighbors
When the tech-savvy kid sets up the wifi for his or her parents or neighbors, funny wifi names will most certainly be assigned.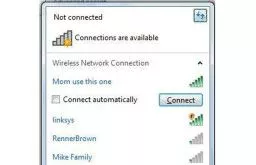 Finally online!
It's not always easy to connect your parents to the internet. And when they are online, expect weekly calls from them because they "de-installed Google", or something similar...
Mom, click here for internet
Mom use this one
HolyFuckWereOnline
Relational wifi names
When you set up a wifi, make your relation to the wifi owner clear. Bonus points if it's not actually the mentioned person's wifi, but your own!
Dad's wifi
Dad's friends' wifi
The neighbor's wifi
Passive-aggressive Wifi Names
Try to shake off the anonymity of the internet by making some friends in your neighborhood! How about some passive-aggressive wifi names as inspiration?
Go away!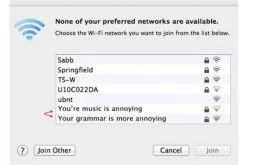 It's that simple. Hint: If you want to stop people from using your wifi, you should probably secure it with a password (and don't give it away in the name!).
Get off my WLAN
This aint 4 u
Get your own wi-fi
Get your Own Net Bro
Don't snoop
Virus alert
Wanna scare off potential wannabe-hackers? Try one of those virus alert names. Beware, your cockiness might attract attention of some real hackers, though.
Free viruses here
WindowsBackdoorTrojanInstaller32.exe
Virus_Detected
Virus_Test_Zone_4
Trolling wifis
Simple but effective wifi names to scare dubious people out of your neighborhood...
FBI Surveillance Van #334
DEA Surveillance Van #24
Counter-Intelligence Unit #1120
Pop Culture Wifi Names
We all love our TV series, novels and favourite songs. So why not name your wifis after what's most important to you? And if you manage to slip a pun into the name, then all the better!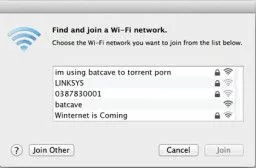 George R.R. Martin's "A Song of Ice and Fire"
Mr. Martin's books are full of sayings, catchphrases and house mottos. Grab one and make it your wifi name!
A LANnister Always Pays His Debts
twist: A LANnister Always Surfs The Net
Winternet is Coming
Other pop culture wifi names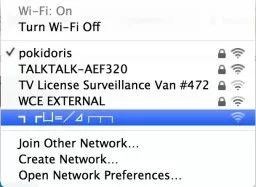 TV series themes and song titles also make good wifi names, if you put a bit of thought into them.
Burn the LAN and boil the C, you wont take wifi from me (from the Firefly theme)
Ebony and Ivory (for black and white roommates, after the Stevie Wonder / Paul McCartney song)
Bill Wi, the Science Fi. (from the Bill Nye theme)
┓┏ 凵 =╱⊿┌┬┐ (Doctor Who)
We hope you found some inspiration for your wifi name here and won't stick to "Netgear", "linksys" & Co. anymore ;-)
Like to discover more funny names? Then check out our fun name generators for robot names, cat names or pirate names.