A bit less serious today:
Poison, Placebo and The Cure
Phish & Styx
Jack Black and Jack White (sponsored by Jack Daniels)
Jack Johnson and Jon Jackson
Pavement, The Cars, The Seatbelts and The Crash Test Dummies
Why? and Yes
Explosions in the Sky, Jefferson Airplane and Led Zeppelin
Queen, Prince and Kings of Leon
Red Hot Chili Peppers and The Flaming Lips?
Hole and A Perfect Circle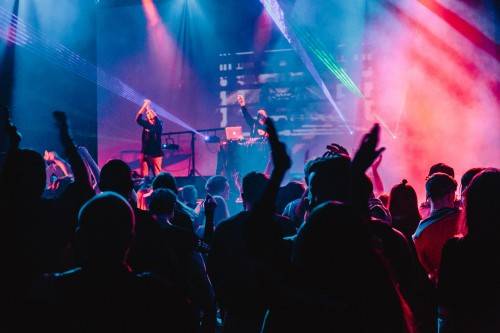 The Rancid Leftover Meatloaf Tour: Rancid, The Leftovers and Meat Loaf
Tom Waits, While She Sleeps
Kansas, Boston and Chicago
The World Tour: Europe, Asia and America
The Piano tour: The Black Keys and The White Stripes
The Beatles and The Crickets, followed by The Byrds.
Fine Young Cannibals and The Missing Persons
Phish, Reel Big Fish and Fishbone. Followed by Grizzly Bear.
Gorillaz, The Monkees and Fight Like Apes
The The, Talk Talk, Attack Attack, Duran Duran and Mr. Mister
The Mamas and The Papas and The Offspring
50 Cent, Nickelback and Pennywise
One Direction, 2-Pac, Third Eye Blind, Fourth of July, The Fifth Dimension, Six By Seven, Altern-8, Nine Inch Nails, Ten Foot Pole, Finger Eleven, D-12, Thirteenth Floor Elevators and Carbon 14
Blue October, The Early November, The Decemberists
Black Keys, Black Crowes, Black Sabbath, Black Star, Black Mountain, Black Rebel Motorcycle Club, Black Moth Super Rainbow, Black Lips, Black Angels, Blackstreet, Blackfoot, and the Average White Band.
Black Crowes, Counting Crows and A Murder of Crows
System of a Down and Stockholm Syndrome. Down Syndrome Tour.
The Killers and The Police
Strapping Young Lad and Barenaked Ladies.
The Animals Tour featuring: Animals as Leaders, The Sounds of Animals fighting, Animal Collective, Exotic Animal Petting Zoo, and The Animals.
Black Flag, Pink Flag, Anti-Flag.
Black Sabbath, Christian Death and Purgatory.
The The, The Who, and The Band.
Moby and the Dicks.
Garbage and the Trashmen.
Coldplay and Hot Hot Heat.
Television, Radiohead, Tapes n' Tapes and Shout.
Guns 'n Roses 'N-Sync
Pulled Apart by Horses, Hold Your Horse Is, Band of Horses and Horse the Band.
30 Seconds to Mars, Bruno Mars and Mars Volta
Red Hot Chili Peppers, Agent Orange, Yellowcard, Green Day, Blue Oyster Cult, Deep Purple, White Zombie, Black Flag, Indigo Girls, Pink Floyd
Nirvana, Heaven and Hell and Bad Religion
Snow, Vanilla Ice, Ice-T, and Ice Cube
Buckcherry and Chuck Berry
Cake and Cream
Like to discover more funny names? Then check out our fun name generators for heavy metal names to reggae names.
More musical ideas? Write in the comments :-)