Name Search Checklist

With NameRobot's interactive checklist, you have at a glance everything you need to do to find a name, and you can check off tasks as you finish them. Not only does the checklist help with structuring and organizing the process, but it also gives you lots of tips to help you with your name search.
You begin to wonder, "Have I tried out the rhyme tool, checked for any unwanted associations, or polled people about my favorite names yet?" There is so much to do in the name search process that you can easily lose track of it all. But not if you use Namerobot's name search checklist. With it your days of forgetting and overlooking steps will be over. You will enjoy getting a step closer to your desired name with every task you check off.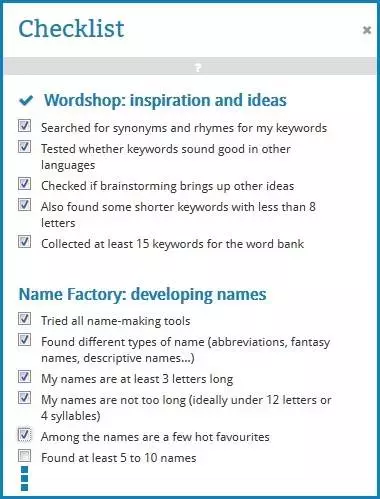 Depending on how you want to do it, you can either work through your to-do list in order, or you can jump around and do tasks as you feel like doing them. The name search checklist reflects the five main steps: Word Import, Wordshop, Name Factory, Control Center, and "My Names." It helps you quickly find the next task you want to tackle.
When all the tasks in a section are checked off, a large check will appear to mark the entire section as having been completed.
You can access the checklist at any time via the check symbol on the left side of the page, where you can also leave feedback and send bug reports. The checklist opens with a click, no matter where you are.


With the name search checklist you can recieve practical tips, check your progress in your name search, and make sure that you do not leave any steps out of the process. This will ensure that you have tried everything necessary on your journey to your desired name.
And by the way, if you have created multiple different projects in NameRobot (via business access), you can use a unique checklist for each name search.

The name search checklist is free and available for use via all access types.