Protect your name with a trademark now

Protect your trademark name - with NameRobot's specialized intellectual property law partners. Order your trademark filing online and protect your brand now.
You have found the name for your project - now it's time to protect it with a trademark application. Prevent others from using your product or company name, and keep competitors at bay. You can register your brand name quickly and safely with out partners. The accredited attorneys from Munich, Germany are specialized in trademark law.
Why protect a trademark?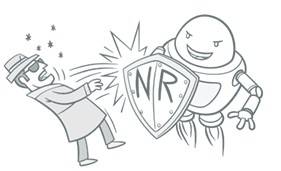 You have put a lot of sweat and effort into the creation of your name. Now you should secure your new brand legally. Reasons for trademark protection include:
Protect your company and/or product name against competitors or imitators
Keep competitors at bay
Secure the right to use your trademark name in your business area

In intellectual property law, the rule "First come, first served" abides. So file your trademark application as soon as possible.
But remember, trademark research and its registration process require expert knowledge due to the research needed to cover all the eventualities. We therefore advise you to play it safe and hire a professional.
Experienced trademark lawyers

After successfully finding a name, you may tick the topic of brand protection off your to-do list. Make sure everything about your name is safe and sound with our partner who is speciliazed in trademark application. Benefit from their expertise and secure your new name as a trademark now!
Our partner's profile:
Experienced attorneys with specialization in intellectual property.
Over 1000 successful registrations of trademark names in Germany, Europe and worldwide.
A law firm with the second most trademark registrations in 2012/13 in Germany, according to trade magazine World Trademark Review 1000.
High success rate of over 99%: only 0.92% of all trademarks in 2012 were rejected by the department as not eligible for protection.
Order your trademark registration now!
Select the trademark registration package that suits you best and secure your name now. Click on the button to learn more.
Please note: Not every name can automatically be registered as a trademark. If our research shows that a trademark application is not possible or advisable, only the actual research work will be charged.