Shortly, Namefruits, the long-awaited and further logical development of the NameRobot idea, will be launched. Therefore, it's time for a short review on the development of the new artificial intelligence for naming, which has kept the NameRobot team pretty busy in the past months.
Interview today: Mark Leiblein, the linguistic leader behind Namefruits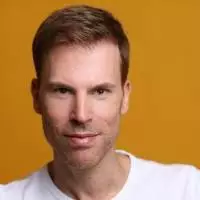 Mark is a professional name finder, language enthusiast, and, since 2005, owner of the naming agency, Namestorm. Since 2010, he has also been the idea generator and co-founder of NameRobot. 
Today, he tells us what constitutes Namefruits from the point of view of a creative thinker and gives insights into the developments of the past months.
Hi Mark, how would you sum up Namefruits in one or two sentences? 
Namefruits is an artificial intelligence that creates, tests, and suggests creative company names for founders.
What makes it special and unique: The user doesn't have to do anything but answer questions. The AI then suggests names that fit his project and style. 
This is quite revolutionary from a linguistic point of view! 
How did the idea for Namefruits come about? 
Our previous - and still very popular - naming tool, NameRobot, is already working great, and founders can find lots of different naming ideas for their business. However, the software has a disadvantage for some users: You first have to deal with operating it, and also actively trying out the various possibilities that the tools offer. 
Founders and start-ups in particular, however, usually have no desire to familiarize themselves with software - or simply no time, since a name usually has to be found quickly. Namefruits does not require any training at all and is easy to use for all users who simply want to get started.
What is your favorite Namefruits feature? 
I am always amazed when suitable keywords are suggested to me, which should be used for my name finding. Often, these are words that would otherwise have taken quite a while to research or brainstorm. In this way, our AI is already really "clever."
What is the goal of Namefruits? 
In short: make Namefruits so accurate that founders get exactly the name suggestions they like in a short time and that fit the planned company.
Namefruits will become even smarter. Meaning: The AI must now be trained intensively, and the information must be prepared for machine learning.
What particular challenges were there in the conception of Namefruits? 
In principle, we tried to recreate the creative processes involved in professional name searches. Of course, many things happen simultaneously, and there are important factors such as intuition, general knowledge, and experience. 
Structuring all of this in the same way that a human brainstorming group produces it (as realistically and simple as possible for the user) has already conceptually brought us to the limits of what is possible. 
How did you formalize the naming process? 
In our day-to-day work as an agency, naming is always personalized, but there is always a similar process as far as the most essential steps are concerned. A central point is always to get to know the customer and his project and to understand them in the best possible way. 
We developed personality labels for Namefruits in order to simulate this very intuitive process. This is information about name preferences that the user collects by answering the questions. Internally, they are then upgraded or downgraded depending on which answers are selected. These personality labels then control which types of names are created and with what probability they are proposed to the user.
As far as the name creation itself is concerned, it was a very complex process to classify the different naming options. On the basis of countless company names, we have created a unique classification in which names are subdivided according to types and styles, from purely descriptive or associative names, through creatively changed words to new creations, and from serious to weird and quirky.
Nowadays, of course, a thorough name check is also indispensable: in search engines, with regards to domain availability, existing trademark rights, apps, social media accounts, and, last but not least, foreign languages (keyword: swearwords). At Namefruits, these checks are completely automated and run in parallel in the background, so that only names with good test results are proposed in the first place. Even if this is not intended to replace the view and advice of a lawyer, valuable preparatory work is still being done. 
And the ultimate conclusion is the presentation of the favorite names with all background information. For this purpose, Namefruits provides the user with a clearly structured NameReport, where they can read how the name was created and how they scored during the checks. 
What will the Namefruits team be working on after the release? 
We finally managed to finish the first version of Namefruits. This is only the tip of the iceberg. Now it's time to evaluate user opinions, analyze results, improve tools, and optimize personalization.
It appears we still have lots of cool things to do in the near future. We're looking forward to it!
Thank you for speaking with us, Mark!