Found your start-up with the right name
Before you can really get started as a freelancer or a company, you need a good name. Then again, in the early stages of setting up in business, you probably have a whole lot of other concerns, and you might be unsure about how to actively start looking for a name for your company or activity.
So just how do you go about developing naming ideas for yourself, and how do you decide which one to go with? NameRobot has some answers. We are ready to help people like you who are in the process of setting up a company or want to go into self-employment with helpful tools and step-by-step guides to the naming process.
Naming takes time: try not to rush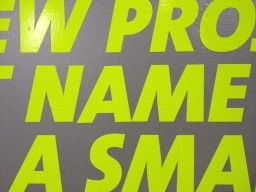 Even if you can hardly wait to start your business, you should take a step back, take a deep breath, and spend some time thinking about your naming options.

If you make the right decision now, you could have a great name that will see you and your business through the next twenty or thirty years. If you look at it like this, taking a week to find one doesn't seem so out of proportion, does it?

So we recommend: set one week aside and use it to find the right name.
Generate names quickly with NameRobot
The right name will get your business off to the right start. If you're quick, you can use the NameRobot Starter membership and have a week's use of the full range of helpful name-finding tools. They will surely help you find the name you want.
Keep reading…
Part 2 - Step by step towards the right name for your start-up ⇒