If you wander through paint department of a home improvement store nowadays, the range of colors on offer doesn't just encompass simple, descriptive names like red, green, or blue. Instead, the colors have names such as "Guardian of Liberty," "Soft Morning Dew," "Liberated Phoenix", "Light of the Glacier," "Dance of Yearning" or "Emerald Wings." What sounds like the start of a poem actually has a deeper meaning – namely to encourage customers with their purchasing decisions.

The psychological effect of colors

Product names should combine a set of information that directs customers toward a decision to purchase a product. This gives product names the ability to contribute toward the ultimate purchase decision: customers who feel that the name is both relevant and appealing will tend to buy the product. For that reason, colors such as interior paints, are labeled with adjectives and words with positive connotations in order to appeal to customers' emotions. When an extravagant person seeks out a color for his or her living room, colors that appeal will be those that reflect that aspect of the customer's personality.

The product name therefore addresses the customer's personality and encourages the customer to make the purchase. The psychological aspects of colors play a significant role in this regard. When parents want to paint the bedroom of a child who is anxious and easily disturbed, a color that is described in terms that evoke calm, poise, and a balanced character will appeal to them.
Conveying values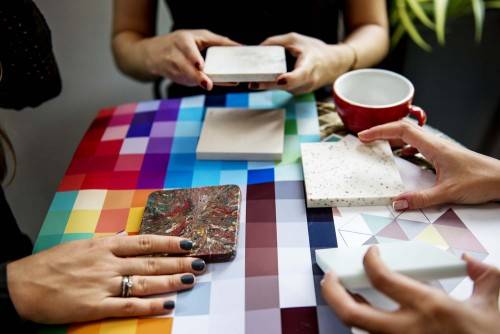 Product names also symbolize brand values. A compelling name that convinces the customer will reduce the risk of a purchasing decision that the customer will ultimately regret. Product names signify quality and reliability.

The ideal name therefore provides distinct benefits due to the fact that it embodies a specific, desirable image, for instance by giving interior paint a distinct character of its own. A green color is no longer simply called "green" but "Emerald Wings." Emerald is associated with something valuable and special, and emerald green is a shade that attracts attention to itself.
If the description appeals to customers' emotions, they will ultimately buy the product. The role of a brand that is built on emotion, therefore, consists of ensuring that customers are fascinated by the product's characteristics and creating an emotional link. It is important to have a clear message and a hook to engage the customer. If a brand triggers positive emotions, it will also build trust at the same time — and that trust is an important factor in customer loyalty. Trust is built through transparency and openness, and a clear brand image creates a powerful impact that exerts an attraction on customers. Ultimately, customers must know what a product stands for, which is why the message must be formulated so that it is both clear and punchy.